EDIT MAIN
---
New Scholarship -From Dreams to Kings & Queens. See attached link for more info...4/20/20 deadline, but apply early!
https://www.dreamstokingsandqueens.com/scholarship-giveaway
---
New Scholarship: William F. Cooper Scholarship - Senior Girls
---
New Scholarship: Murray's 2020 Educational Scholarship
---
Civitan Alice and Bobby Dodd Scholarship
---
<https://www. college-scholarships.com>
Please note that the site does not sell any goods or services or collect personal or contact information of any kind.
The site not only offers lots of information that can help your students, there is also a lot there for their parents and your staff.
Visitors to <https://www. college-scholarships.com> can start with the most comprehensive list of free financial aid search sites anywhere…about 70 in all. Then they can read more than 50 articles with tips on admissions and financial aid tip, time management, dealing with difficult roommates, campus life, internships, and much, much more.
---
Society of Women Engineers Scholarship
Deadline: April 10, 2020
The Savannah Coastal Empire SWE will be awarding a $1000 scholarship to a female, high school senior, intending to enroll at an ABET accredited university for the upcoming school year and majoring in an engineering, computing, or engineering technology program. Additionally, $500 for 2nd and $250 for 3rd place will be awarded. The student must be currently enrolled in high school in one of the following Georgia and South Carolina Counties: Beaufort, Bryan, Chatham, Effingham, Jasper, Liberty, Long or McIntosh.
The full details and forms can be accessed on our website https://www.sceswe.org/scholarship.html
---
The Savannah Section of the American Institute of Aeronautics and Astronautics (AIAA) is excited to provide a $1000 scholarship opportunity for a local university or high school student interested in pursuing an aerospace engineering related career.
---
American Heart Association Scholarship Opportunity
---
2020 SCHOLARSHIP AWARD – SAFE DRIVING SUPERHERO. Driver safety continues to be a major challenge. You may not know that car crashes remain the #1 cause of teen deaths. It's time for a superhero to help turn this situation around.
https://www.litnerlaw.com/scholarship/
---
Buzzell, Welsh & Hill 2020 College Scholarship Program. 2020 Scholarship Theme: Marketing Campaign Targeting Distracted Driving.
https://www.bwhlegal.com/scholarship
---
The Savannah Community Foundation offers scholarship opportunities to graduating seniors at Bryan County High School. The original deadline for applications was this Friday. However, the deadline has been extended to an undetermined date. Students should continue to work on applications so that once the deadline is announced, additional information needed will be easily accessible for the counselors/teachers. Please also note that we do not need sealed transcripts. We require one official transcript (that does not have to be sealed) and copies with all other application copies. This will enable counselors an easier task.
---

Doris Dorsey Jones Scholarship - Deadline extended to May 1 @ 12:00 noon.
The Doris Dorsey Jones Scholarship Fund was established in her memory by her family with The Savannah Community Foundation, Inc. (the "Community Foundation"). The scholarship is open to all high school seniors in Bryan, Chatham and Effingham Counties, Georgia who have:
Obtained a cumulative GPA of at least 80 on a 100 point scale or 2.0 on a 4.0 scale
Demonstrated financial need as determined by the scholarship committee
Submitted a completed copy of this application, signed and dated with all additional materials.
Scholarship awards are to assist the recipients in the payment of tuition, fees, room, board, and other academic expenses made payable to the institution.
The amount of the scholarship for the 2020-2021 academic year shall be $1400.00, to be distributed in halves at the start of the Fall and Spring semesters. Any refunds of scholarship monies will be made to the Community Foundation, not the student.
Savannah Area Realtors Scholarship - Deadline extended to May 1 @ 12:00 noon.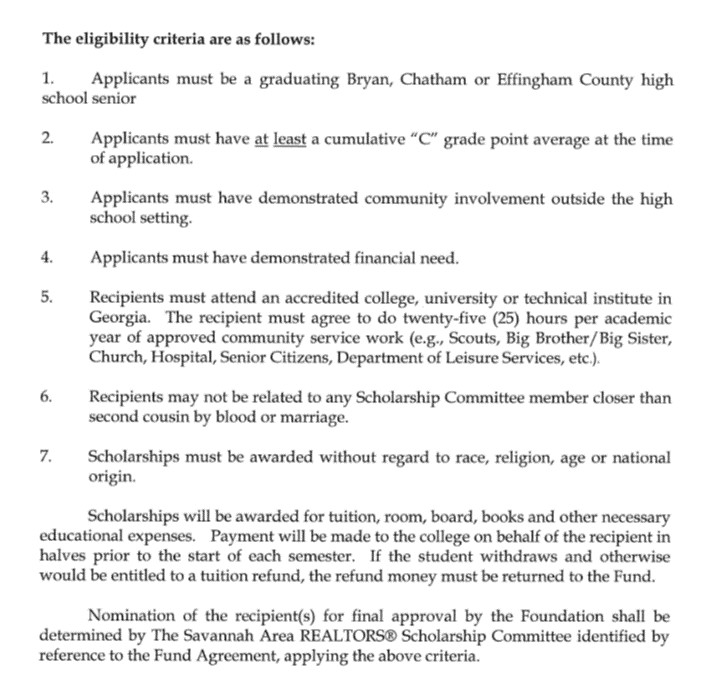 The O'Hayer Wings of Soccer Scholarship -Deadline extended to May 1 @ 12:00 noon.
The O'Hayer Wings of Soccer Scholarship is established by the O'Hayer Family in memory of Thomas J. O'Hayer, III and funded through the Wings of Soccer 3 v 3 Soccer Tournament. The purpose of this scholarship is to assist a graduating senior from a high school in Bryan, Chatham and Effingham Counties to attend an accredited college or university. Soccer must be the applicant's dominate sport of choice. Preference will be made to players that have played soccer for more than only the middle and high school levels. The scholarship award will be given to one student in the amount of $1000 for one year. The award granted may be used for tuition, fees, books, and other necessary institutional expenses.
Please submit the following supporting materials required with this application form:
❖ Official transcript of grades – preference will be made to students with a GPA range of 2.9 to 3.2.
❖ Two (2) letters of recommendation (1 from high school faculty/1 from any soccer coach that has coached the applicant)
---
Scholarship through Georgia Heritage Federal Credit Union for members.

Due to COVID-19 the application deadline for the Georgia Heritage FCU scholarships have been extended to May 30th. Please go to their website www.gaheritagefcu.org to apply and for more information
---
Hearts for Community Service Scholarship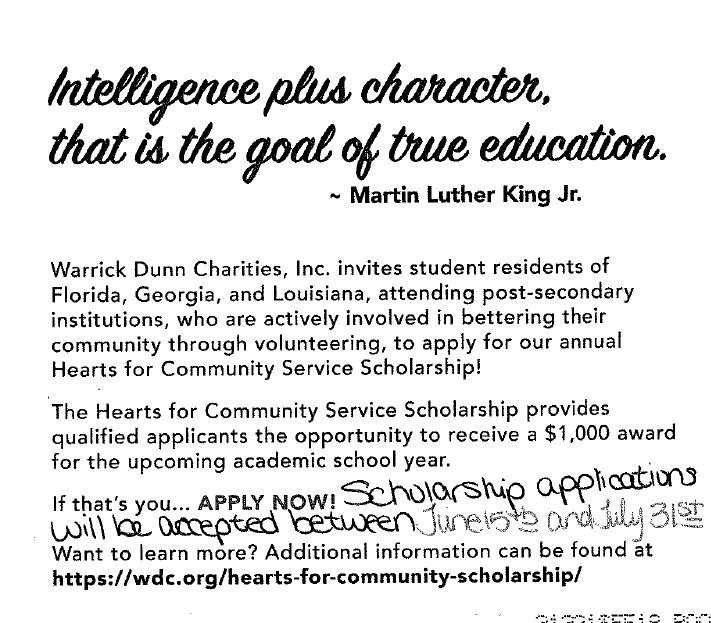 ---